Estimated reading time:
3
minutes
We have just released Endpoint Security (EPS) version 7.1 with some new enhancements and improved compliance features. This blog is a comprehensive guide to all you need to know about EPS 7.1. The new version is a refinement and extension of the core features and functionalities of EPS with special focus on Data Loss Prevention (DLP), Update Manager and Asset Management, ransomware protection and more.
Key Enhancements
Easy deployment in a distributed environment: Distributed enterprise networks have many remote office locations, and almost every organization today provides each remote office with its own internet connection and access to important information. With 7.1 managing clients across distributed geographic locations become easier. Seqrite EPS's centralized console enables IT admins to install EPS server at the Head Office (HO) and clients can be deployed at any remote location or branch offices.
Endpoints at each branch location can be configured to communicate with the EPS server at Head Office (HO) through public IP or Fully Qualified Domain Name (FQDN). IT admins can uniformly apply policies to each remote office and get status and reports of endpoints.
Deployment on systems hosted on Azure/AWS: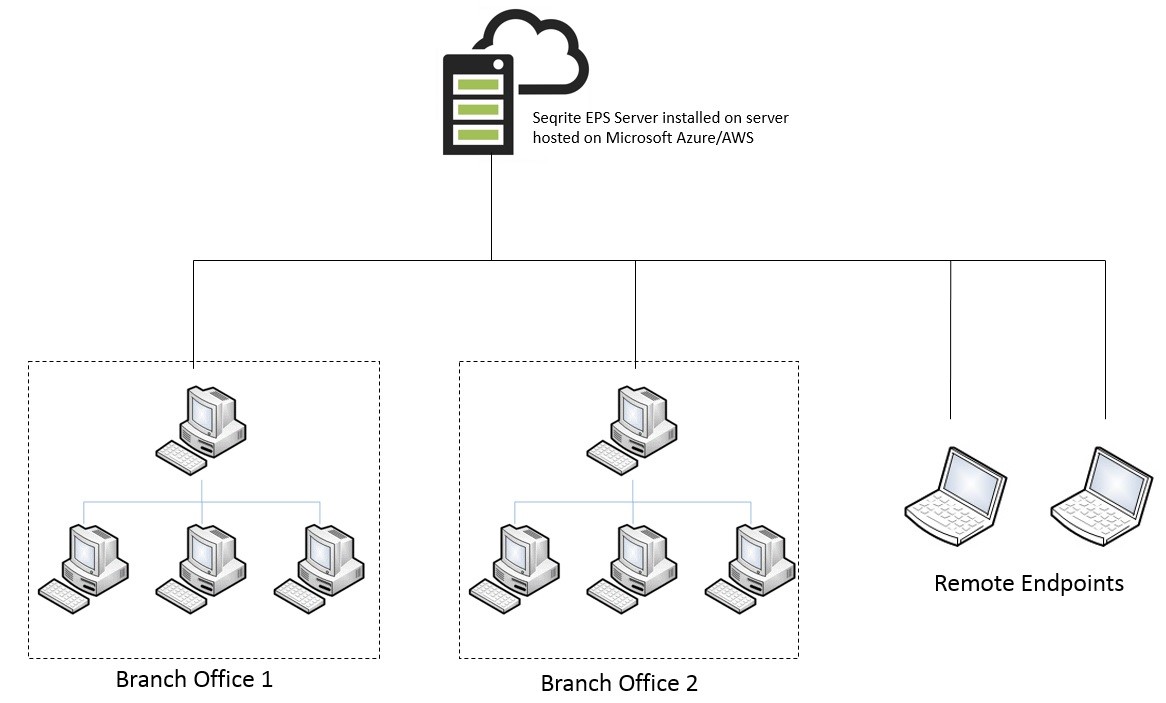 The enhancement will enable IT admins to install EPS on server hosted on Microsoft Azure and AWS Platform to manage clients across distributed locations.
Improved Data Monitoring with Data Loss Prevention (DLP):
Print Activity Controlling and Monitoring: EPS 7.1 will facilitate controlling and monitoring of printing activities across endpoints. Printing privileges can be configured on select endpoints enabling IT admins to monitor and get detailed records of printing activities.
Exclusion for internal domains: The enhancement will allow IT admins to exclude internal domains from DLP monitoring, and permit transfer of confidential information within the organization.
Network share exceptions for data storage: EPS 7.1 will have the provision to exclude some specific network drives/folders, and allow endpoint users to copy and store confidential data at central location within the organization.
Enhanced support for custom extensions: The enhancement will allow IT admins to configure and monitor custom extensions apart from predefined extensions present in the list. All files with user-specified extensions will be monitored or blocked as per DLP policy.
The new version also supports availing DLP feature pack for specific departments/endpoints. Seqrite DLP solution comes as an added feature pack with Seqrite EPS Total and Business Editions and is an integrated feature of EPS Enterprise Suite Edition.
Setting a bandwidth limit with Update Manager: Update Manager feature has been enhanced to enable usage of limited bandwidth, and schedule updates in a distributed environment. The feature will help enterprises to control bandwidth consumption and improve business operations.
Enhanced control of endpoint with Asset Management: Asset Management feature has been improved to ensure better compliance of IT assets. Detailed reports of endpoints can be fetched based on multiple parameters such as Operating System (OS) installed, application name, processor name, last shutdown time and more.
Proactive detection of ransomware threats: Seqrite's Intelligent CloudDetect technology ensures comprehensive protection against ransomware infections. The recent AVLab report gave an Advanced +++ rating to Seqrite EPS for detecting 28 malicious software files of crypto-ransomware. EPS 7.1 will now give detailed insights of ransomware incidents across endpoints and ensure that such incidents are successfully quarantined.
Watch out for this space for more updates on Seqrite EPS 7.1.