Estimated reading time:
8
minutes
We generally see that ransomware attacks are deployed through exploits, unsolicited malicious emails (malspam), or malicious Microsoft Office documents. Attackers trick the unsuspecting users into enabling macros, etc. Apart from these usual attack techniques, we came across a new way of using Anydesk software fake websites to spread Babuk ransomware. Anydesk is a remote-control tool that allows users to access remote computers and other devices running the host applications.
Babuk Ransomware is recently very active. Its tactics for encryption are not much different from other ransomware families. Over time, ransomware releases new variants and improves its attack mechanisms to target new victims.

When the user tries to download the Anydesk software from an unknown suspicious link, a fake website appears, which allows you to download Anydesk software. This fake website looks like the original Anydesk website. When the user clicks for downloading Anydesk software, ransomware is also downloaded as it is bundled with Anydesk software in the form of a self-extracting archive (in this case, it is in no setup files). It does so for evasion purposes.
For eg:
If Anydesk is searched in Microsoft or Bing, we get the following result. The first website is not related to the official Anydesk application, and After clicking on the setelog website, ads.htm redirects to a malicious website that downloads ransomware.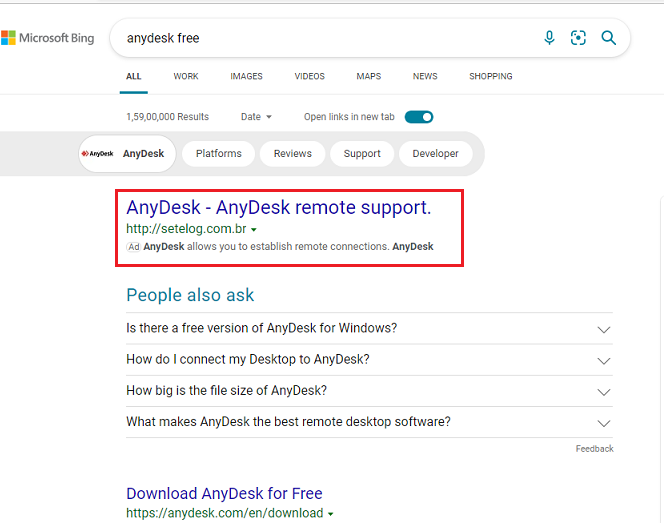 Similarly, we have found one more suspicious link for Anydesk application which is mentioned below.
URL:
https[:]//Anydesk1[.]websiteseguro[.]com/downloads/windows/?_ga=2.165501695.1936674747.1628634255-780551265.1627305233
Downloaded File Name: Setup_Anydesk.exe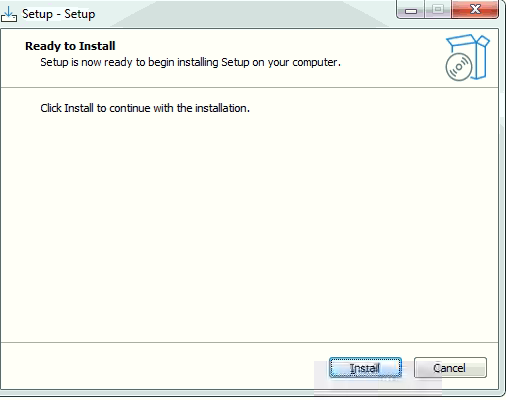 We analyzed the downloaded archive and discovered that it has a clean Anydesk setup along with a Babuk downloader, a RAT file, and a REG file.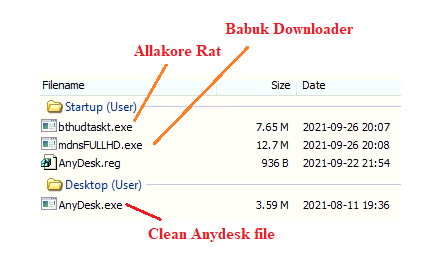 Understanding the Infection Process
When a user clicks on the downloaded archive, which pretends to be an Anydesk software application, other files in the bundle get dropped silently. The above image shows an Allakore Rat client named bthudtaskt.exe, a Babuk downloader called mdnsFULLHD.exe, and one registry file named Anydesk.reg is dropped in the Startup folder without user interaction. Clean Anydesk application is dropped at the desktop, and it gets installed. All the dropped files in the startup folder are executed through PowerShell and perform their activity in the background.
Anydesk.Reg:
Anydesk.reg file disables user account control by setting the value of EnableLUA by 0. It also disables windows defender by setting the value of DisableAntiSpyware by 1. Malware also disables real-time protection by setting values by 1.
Allakore RAT Client:
AllaKore Rat is an open-source simple Remote Access Tool written in Delphi and has a very high resemblance with code found on GitHub.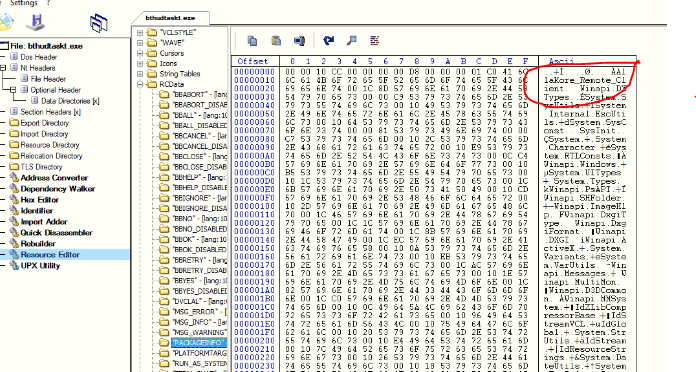 Babuk Downloader launches the Allakore Rat and it makes TCP requests as shown below.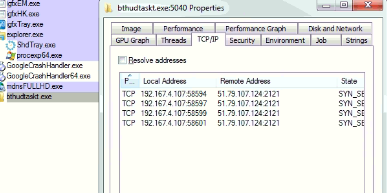 Babuk Downloader:
The 'mdnsFULLHD.exe' file is PE32 executable for MS Windows, and it is Delphi compiled. It is immense (~ 12MB) as it has most of the code to impair the defences. It launches the Allakore Rat ùsing PowerShell cmdlet Set-MpPreference, and it makes TCP requests as shown above image.
It adds the below paths in exclusion for the Windows Defender modules through the PowerShell cmdlet Set-MpPreference to hide all the malware components from Windows Defender.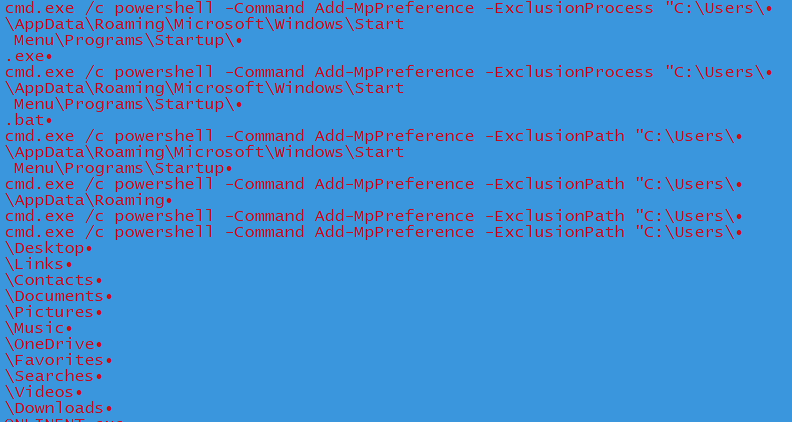 For eg:
cmd.exe /c PowerShell -Command Add-MpPreference -ExclusionPath "C:\Users\XXX\Contacts"
cmd.exe /c PowerShell -Command Add-MpPreference -ExclusionPath "C:\Users\XXX\Links" etc
Above are excluded by executing cmd.exe. The malware also excludes the below drives.

It has a list of AVs as shown below and it checks if any of the antivirus product is installed in the system.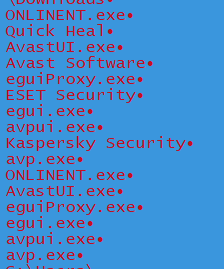 If any of the antivirus processes are running on the system, the below prompt appears, asking the user to intervene and uninstall the product. If the user clicks on the Next button, then the control panel opens for uninstalling the software, and in the background, the malware checks whether it is uninstalled or not.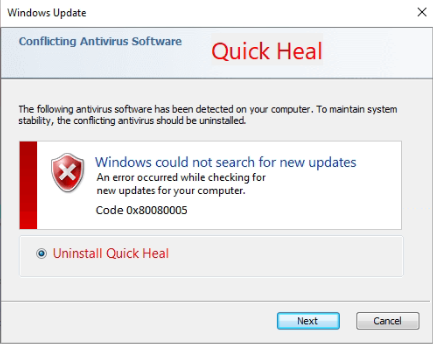 The malware disables Task manager, and it undermines all the modules of Windows Defender.
Further digging into the file revealed that malware sent an HTTP request to download the bat file and .exe file. The domain used are:
"hxxp://suporte01928492.redirectme.net/Update7/Update.bat.rar"
"hxxp://suporte01928492.redirectme.net/Update7/Update.exe.rar"
These downloaded files are saved in:
"C:\Users\AppData\Roaming\Microsoft\Windows\Start Menu\Programs\Startup" folder. Malware creates these files and names according to the user name and then executes both the files silently using PowerShell.
Files created:.exe and .bat
E.g., if the username is ABC, the file name is ABC.exe and ABC.bat in the folder mentioned above.
Update.bat
It contains the following setting, which is executed through PowerShell, which help in evasion of the malware:
Hide per-user toggle notifications
Hide notification of windows defender in the systray icon
Disable dialogue prompt.
Cascade elevation.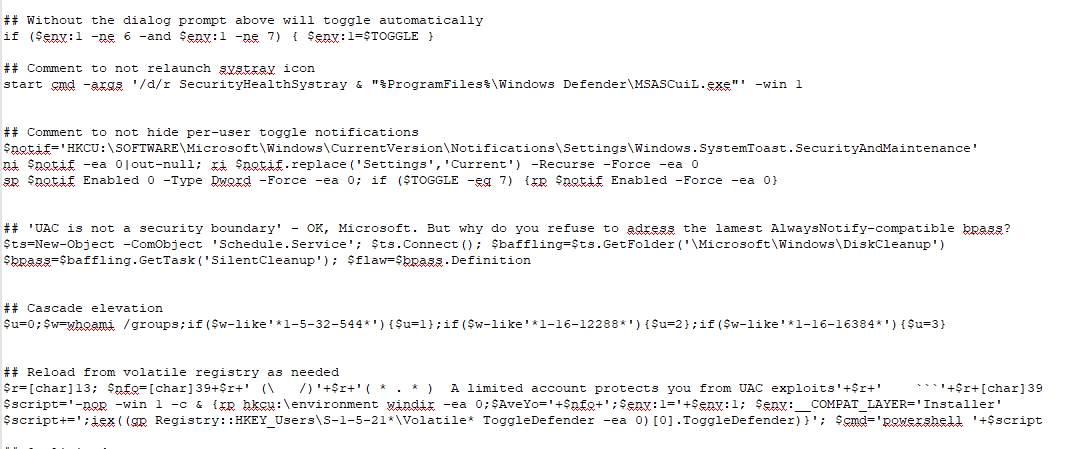 Update.exe: BABUK PAYLOAD
Downloaded Update.exe file is a Babuk ransomware payload. It is UPX packed file, and the size is small, around 25 KB. Malware is compiled in C/C++.
After execution, it launches the vssadmin.exe process to delete all Shadow Copy using the command "vssadmin.exe delete shadows /all /quiet." It also creates "mutex" with the name "DoYouWantToHaveSexWithChuongDong" in the system.
Malware closes all the processes that are listed, which prevents file encryption. It also empties the Recycle Bin by calling the function SHEmptyRecycleBinA(), and it enumerates system folders and drives and creates ransom notes in each folder.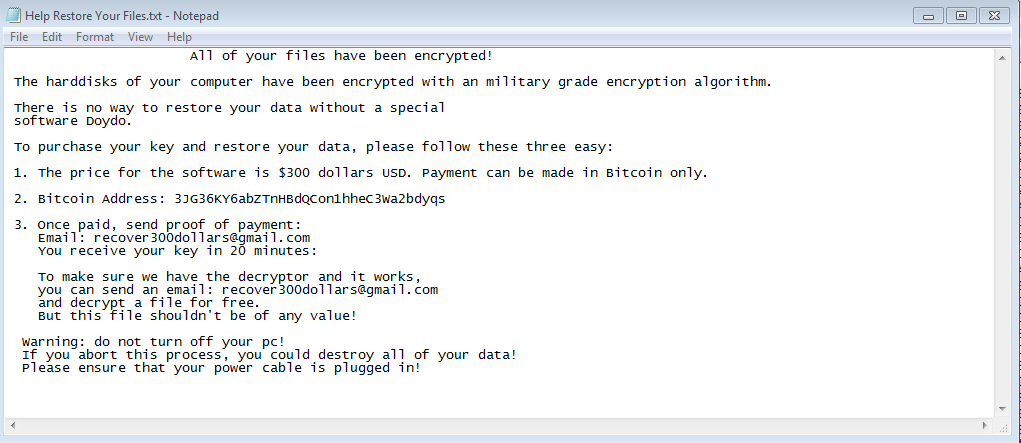 It encrypts all files by the extension ".doydo".extension may vary according to the payload variant downloaded.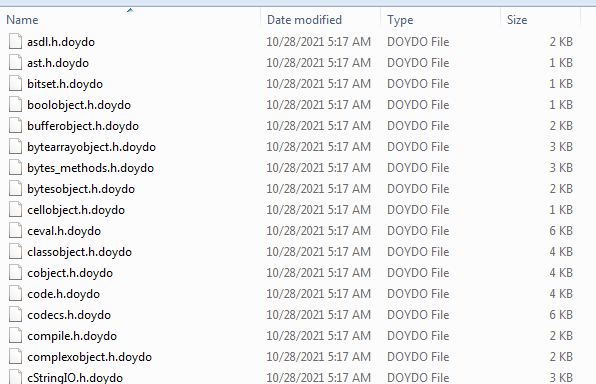 Malware appends the string "Choung dong looks like a hot dog!!" at end of the encrypted content of all the encrypted files.
After a successful attack, if the victim does not pay the ransom as demanded, the malware author either publishes the encrypted data or sells it on underground forums.
Conclusion:
This use case is not limited to a specific threat actor. However, we believe that this type of infection is affecting a wide range of Anydesk users. Using tools like Anydesk or other administrative agencies, the malware authors can easily take administrative privileges of the victim's computer and perform the malicious activity in the system.
In the end, we emphasize the customer to be very careful while clicking on links that are used for software download or any link received by email, messages, or WhatsApp. Always check whether the website is official and secure or not.
Here are a few additional guidelines which will help to minimize the attack surface & possible damage to IT infrastructure.
Avoid downloading software from untrusted P2P or torrent sites. In most cases, they harbour malicious software. In this case, use https://Anydesk.com/en/downloads to download Anydesk software.
Always keep your security software (antivirus, firewall, etc.) up to date to protect your computer from new variants of Malware.
Do not download cracked/pirated software, as they risk backdoor entry for Malware into your computer.
Audit 'Local /Domain Users' and remove/disable unwanted users.
Don't assign Administrator privileges to users.
Wherever possible, enable multi-Factor authentication to ensure all logins are legitimate.
Don't stay logged in as an administrator unless it is strictly necessary.
Avoid browsing, opening documents, or other regular work activities while logged in as an administrator.
While signature-based protections alone are insufficient to detect and prevent sophisticated ransomware attacks designed to evade traditional protections, they are an essential component of a comprehensive security posture.
Respond carefully & sensibly to the alerts raised by Behavioral-based detection systems and Anti- Ransomware Protection systems. We prefer to block/Deny unknown applications detected by these systems.
Audit RDP access & disable it if not required. Else, set appropriate rules to allow access from only specific & intended Hosts.
In almost all cases, attackers use PowerShell scripts to exploit the vulnerability, so disable the PowerShell in the Network. If you require PowerShell for internal use, then try to block the PowerShell.exe connecting to public access.
Always use a combination of online and offline backup of all your files.
How Quick Heal Protect its Users:
Quick Heal products are equipped with multi-layered detection technologies like IDS/IPS, EDR, DNA Scan, Email Scan, NGAV, Web Protection, and Patented Anti Ransomware detection. This multi-layered security approach helps us protect our customers against Babuk Ransomware and other known, unknown threats efficiently.
Indicators of compromise
Anydesk Innosetup files:
a64beabdb0c9ae6b5dca97b64bbd0358
d7751f57dca53de35be58c45e623ba54
b70fb92fadc90efca375850ed503af4d
225fcb613c1796a3f27a2b71aba77dc4
23c9916a932d3c3b03d9ebee5c2bd6eb
d443a25c6a4f9c553724da404676dee4
a0b78a347b3e8b1b17a3db6dda4079e3
d0af75fc8c88a51b044dad9bfa2cbd17
33dd883776eda150f4bdfebe97f00790
ea34fea96cbbc22091aab8c6a4225326
5763a24e3927c6053bb216b09d281c13
Domains:
myftp.biz
sytes.net
redirectme.net
sytes.net
serveirc.com
websiteseguro.com/downloads/windows/?_ga=2.165501695.1936674747.1628634255-780551265.1627305233
Babuk Downloader:
4935463e3f1f0e498f5928d579405725
4e376b65f35727c956782874d2777549
64c97cda282fdf8f5906f98d8b5e83d0
85deb376e4c3559ce010c8e9a4a6595c
a5d17bf427f8630e207564b3888af127
ad4461b7b14faa0dc2b77dbd95ab4330
aeef6cefcf78c8990a09eee89d831c7f
db4572ff504436ffb079ef5858176deb
Ead98682c4b5da91fa6380f1858cf8c4
Allakore Rat Client:
1486cbb9b4ff1c5aceb67949eefa8cda
1bcbc44772aba8c5dd27b964e555a490
207ffd69134a589bbb5e24949664234a
2719bd7ab3de7b683041cd7c30f1041d
2f860f69a4090e9f6bf0833dc322ff77
304275544920ab64fc3d17e2c1a30fd7
3e45570f7b33f0f4c24bcc7b24b31d85
44c696374426167febbc290b8cd1b300
45d7c902614f094a846dea70b31bb846
4fc57386bfc22265a507adb818ef163e
65f7a1e438a33ec75adbc599d2362706
83020fda9cd8bc429a4141284ba41b21
c4a047327be1a3a481083cecbcc1c54d
d387a74efbb033c1d327a5e1c4a9e6ce
e5313dd64ce118e49e1dfd461af26835
F555a28a88f91ec639e5d86bc4c1c3c9
Babuk Payload:
0099963e7285aeafc09e4214a45a6a210253d514cbd0d4b0c3997647a0afe879
028facff67136de55fe200177a190da625c8e1713b4e7d95bf5fc5412a5afffc
0294114d5f411b6c47eb255d4ed6865df99d1c5252f4f585aabf44e6cbacaa59
02e9883501635da9b501e715bb827a0b9d0c265991f1263f073eb6c5d9b335c3
03110baa5aad9d01610293f2b8cd21b44cc7efa0a465e677d6b3f92510a4b1d7
0b93a024b5d6874d7bb69abd7f0e2d54a67c602584575a9b6d1212baae81442f
12c561ac827c3f79afff026b0b1d3ddec7c4b591946e2b794a4d00c423b1c8f8
15656e1825383c4749fadcc46f9825df6262ca2f1f98d895d64c840febe3d9d3
18e282e6806903ff00a78b91f6d0ad1bc3aae4b4846d6a5705c036a88138605f
1ab45a508da655ef755ad4394f869c664f664b3ac111875704a583e9485f2238
1d40f42fa328a9a6192d4fa8c6e5ce6f813ea9132774784521713b202d772994
1deb1efad2c469198aabbb618285e2229052273cf654ee5925c2540ded224402
1e24560100d010c27cc19c59f9fe1531e4286ecb21fe53763165f30c5f58dc90
63b6a51be736d253e26011f19bd16006d7093839b345363ef238eafcfe5e7e85