Estimated reading time:
3
minutes
We are seeing the beginning of a space age of digital exploration. Even though the Metaverse may be a buzz nowadays, it is an idea that is earning huge attention all over the globe. Supposing widespread adoption will change how humans powerfully interact with each other. However, this latest technology, in which individuals can connect online in enhanced ways, can open up doors for cybercriminals.
In this blog, we will discuss the security challenges in the Metaverse and how education and prevention can safeguard users from hackers and secure privacy and identity.
 What is the Metaverse?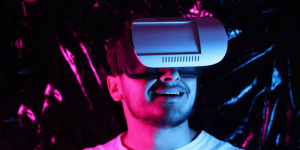 A Metaverse is a network of 4 Dimension virtual globes focused on social media friends. In science fiction, it is often portrayed as a hypothetical iteration of the internet as a single, virtual world that is stimulated by the use of virtual and augmented reality headsets.
The term "Metaverse" was coined by science fiction author Neal Stephenson. Facebook gives Metaverse a more popular definition. Lately, Facebook changed the name of its internationally identified company to Meta.
The main reason behind this decision was to reflect their current focus on becoming a prime candidate in the Metaverse.
Facebook plays a big part in connecting people on the internet, but the idea of Metaverse moves a long way beyond Facebook friends and group calls. Metaverse allows enterprises to create "digital twins" to utilize data and develop algorithms to control decisions driven by executives in real life.
The Metaverse is a digital world that blends virtual and augmented reality. This online world will be identical to the real world or established on creativity, or some combination of both with the help of digital avatars. Avatars and VR headsets give more in-depth glances at users' real lives better than anything seen on social media.
The personal qualities of the Metaverse and the data it produces will provide excellent opportunities for cybercriminals.
Cybersecurity Challenges in Metaverse
Some of the cybersecurity challenges in Metaverse will be similar to what we are already familiar with on the internet. The persistent rise of cyber-attacks over the past year and during pandemics has displayed just how worthwhile it can be for cybercriminals to hack into an enterprise or an individual's online accounts.
However, along with the standard phishing, spear-phishing, malware, and ransomware attacks we are familiar with, the Metaverse will probably bring completely new cybercrimes because of its infrastructure. There is immense usage of NFTs and cryptocurrencies in the Metaverse; it can be tempting targets for cybercriminals.
For example, cybercriminals hunt NFT stores closely to replicate famous NFT marketplaces and create fake NFT stores. These websites can look almost similar to the originals and can fool even an experienced buyer of NFT, spending large amounts of money on fake artwork worth nothing. In the Metaverse, with multiple layers of virtual reality hiding the true identity of the cybercriminal, it is very difficult or impossible for victims to get their money back.
Cybercriminals are collaborating to form cyber firms. They are transferring information, data, and infrastructure to establish power. Cybercriminals use press releases on the dark web to announce their partnerships with other cybercriminals.
Challenges of Securing the Metaverse
Dependency on hardware to experience Metaverse is another challenge. The Metaverse relies upon external devices like virtual reality headsets that can be effortlessly hacked by cybercriminals if left unprotected.
Data captured via these devices will be used in the future and can be sold on the dark web. Personal data can be easily used as blackmailing threats or helpful to perform social engineering techniques; with the help of social engineering techniques, cybercriminals can achieve a significant spear-phishing attack targeting particular individuals or companies.
Also, intellectual property can be harder to protect when people and companies are not only living lives in the real world but also in the Metaverse.
Future Cybercriminals may figure out how to make their existence unnoticeable. They could quickly get into victims' systems and invisibly enter meetings and keep track of essential business exchanges. Government and intelligence agencies may dedicate considerable resources to figure this out.
How to stay secure from Cybercriminals in the Metaverse?
Currently, there is no one explanation for how to make the Metaverse a secure place. In the Metaverse, a certain level of anonymity will probably still exist that will help cybercriminals get away with behaviors such as phishing, spear-phishing, cyber stalking, and online harassment.
Security awareness training remains the best way to train people and enterprises how to stay secure on the internet and the Metaverse in the future. People should understand the risks in this new internet world so that the right cybersecurity resources should be deployed to protect individuals and organizations.