Estimated reading time:
7
minutes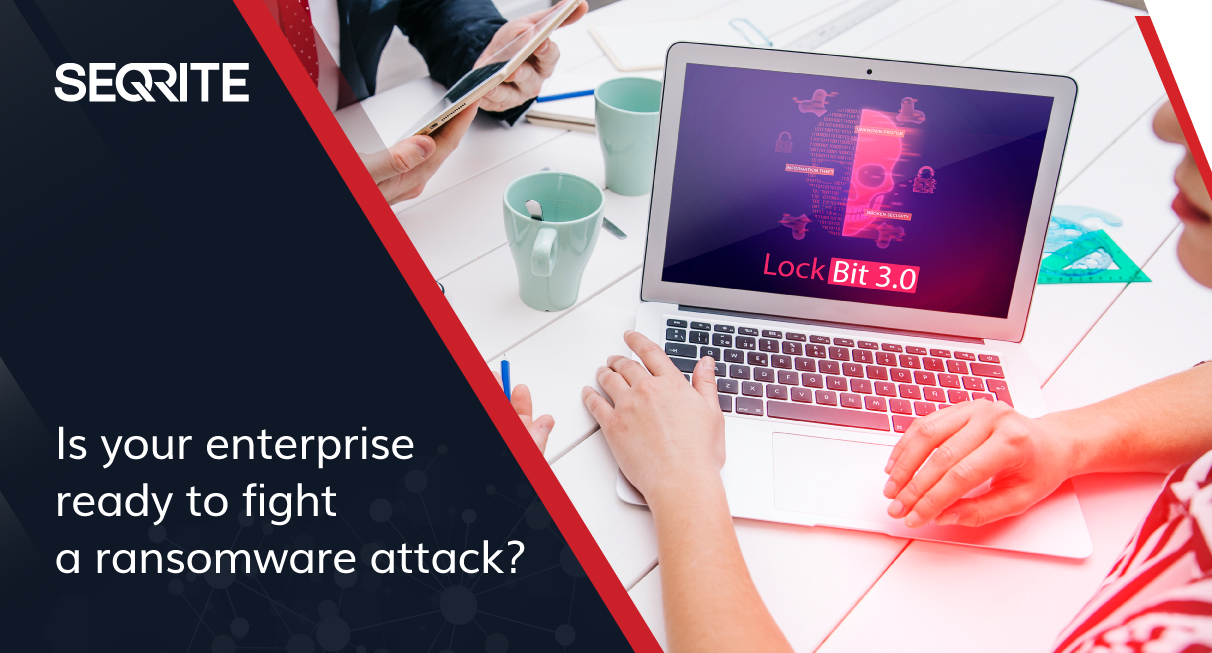 9 Best Practices to Avoid Ransomware Infection
Individuals and organizations must implement the best cybersecurity practices to avoid ransomware infection and data loss. In the past few years, ransomware has become a menace due to various platforms on the dark web offering ransomware as a service. One of the recent ransomware is called LockBit 3.0. It uses a double-extortion method first to encrypt the victim's files and copy them onto another server.
Let's look at the following:
What is Ransomware?
How does Ransomware work?
How can you safeguard yourself against LockBit 3.0?
How SEQRITE Can Help
How does Ransomware Infection Work?
Ransomware is a type of malicious software, more like a form of malware that encrypts computer data. Once the data is encrypted, the user is asked to pay a ransom to the attackers to unlock their data.
Extortion through Ransomware involves stealing files and preventing access to them through encryption or blocking. It is similar to physical theft and ransom demands to release the items.
Even after paying the ransom, there is no guarantee that the hacker will give you access to your files or that it won't happen again.
The "WannaCry" ransomware attack from May 2017 is a classic example:
Over 300,000 computers worldwide, including government offices, police stations, hospitals, and ATMs, were affected during the 2017 attack. The problem was so severe that Microsoft extended security to support even older operating systems. The following year, Taiwan Semiconductor Manufacturing Company (TSMC) had to shut down 10,000 machines due to a new variant of WannaCry.
Similarly, in 2022, ransomware called "LockBit 3.0" infected various systems. LockBit is self-spreading ransomware that uses a double extortion method to extract as much money as possible from the victims.
"Double-extortion method" implies that the users are demanded ransom twice:
Once to decrypt and access their files
Another time to prevent their files from being distributed or sold on the internet.
Various other ransomware has since spread and caused multiple individual and organizational losses.
LockBit was discovered in 2019 and has since been used by its operators on a subscription basis through licenses acquired through the dark web. The most recent kind of LockBit has been dubbed LockBit 3.0.
The typical process of a LockBit 3.0 attack can be divided into three stages:
Exploit
Infiltrate
Deploy
During the exploit stage, the victim might be a target of phishing and unknowingly download the malware. There is also the possibility of facing brute-force attacks on their network. Once the malware has entered the network, LockBit 3.0 ransomware prepares the system for encryption.
Next, we have the infiltration stage. LockBit 3.0 infects the victim's PC. It escalates the program privileges to achieve this. It then terminates some critical system services, such as SecurityHealthSystray.exe. Additionally, various services are stopped and deleted to prevent the ransomware from getting traced.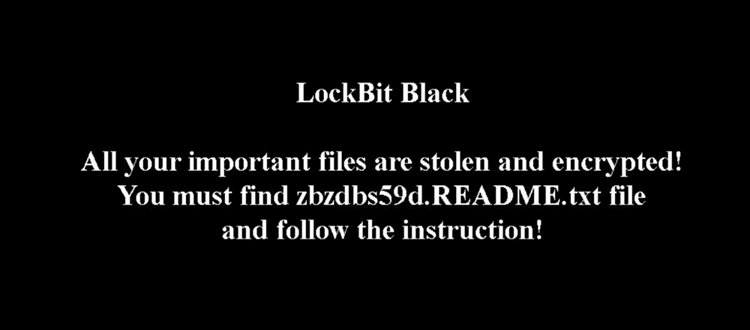 Finally, at the deployment stage, it is ready to finish the process. It encrypts the files, and the affected files get suffixed by a string of random alphanumeric characters. The user's wallpaper is changed along with the instructions to read the ransom note prefixed by the exact string of characters.
Who Can Be The Potential Target Of The LockBit 3.0 Ransomware Attack, And How Can It Create Various Challenges For Your Business?
Anyone can be a potential target of a ransomware attack. Broadly, we can consider two categories of victims:
Individuals
Any method used to attack an individual can also strike a company on a larger scale.
Businesses
Any company with access to public servers is a potential target for ransomware attacks. Every company is, therefore, a potential target of this type of attack.
How Can This Create Different Challenges For Your Business?
Most ransomware attacks are designed to disrupt your company's standard, day-to-day operations. All types of ransomware attacks pose different challenges to businesses:
Productivity
Productivity is a huge challenge that can impact your business. When your systems fail, your staff shuts down every day daily routines.
Compliance
If you're in an industry where compliance is high on your priority list, ransomware can make you non-compliant and even shut down your business.
Revenue
One of the biggest challenges of ransomware attacks for businesses is lost revenue. This can be due to loss of productivity, legal lawsuits due to non-compliance, or loss of project-critical data.
Loss of customer confidence
Becoming a victim of a ransomware attack can cause you to lose the trust of your customers and cost you a significant chunk of your business.
How To Safeguard Your Organization?
Now, what's the solution? How to safeguard yourself and your organization from all these ransomware, malware, and cyberattacks without hindering your productivity, business compliance, and more?
The answer is simple yet hard to follow. Why?
Because you need to take care of details and keep a checklist ready to safeguard all your data, documents, files, and more from these malicious hackers and software, you need to have a cyber security solution that keeps your devices protected.
Here's a list of 9 hygiene checks organizations should follow, even after buying a cyber security solution.
9 Hygiene checks organizations should do Even After buying cyber security solutions:
Install Antivirus
Every day, 350,000 viruses are detected on laptops and computers. What do you think is the solution for this issue? Antivirus is! An antivirus gives your devices immunity to fight against ransomware, malware, or other cyber attackers. Take preventive actions today and install (and keep updated) antivirus on your business and personal devices.
Installing antiviruses takes the first and foremost step to attaining protection from cyberattacks. But you can never be too sure that other malware attacks will not attack you. Thus, you must follow through with the entire checklist.
Stay Away From Pirated Software
Copied software can never replace the original one. They lack authenticity, and the pirated version is also not 100% trustworthy. Instead, there can be a hidden virus in the pirated version of security software.
Using pirated software is equal to costing yourself billions. This malicious software will create havoc in your system and damage your data. Therefore, you must not download or copy pirated versions of software.
Take Regular Backup
58% of small businesses are never prepared for data loss. Thus, never miss out on your backups – make it a habit to do a regular data backup every week or month and create a secure archive of all your essential documents and files.
You should configure your cybersecurity solutions properly, select the files to be backed up based on their priority, and then take regular backups.
With regular data backups, you will never lose your data to inevitable or unplanned situations like system corruption, malware infection, hard drive crash, and more. It will help you recover all your data quickly and seamlessly.
Avoid Clicking On Random Links
Randomly clicking attacks on your devices can lead to ransomware or malware attacks. Your devices will covertly download software intended to damage or disable your computer.
These random clicks can result in you being ghosted from your devices, your data being hostage to cyber attackers, leaking out your details, and getting access to all your personal information. Thus, quit clicking on random links.
Disable Macros In Unknown MS Office Documents
Typically, macros are made for users to automate routine tasks like pulling data from different resources and compiling them in a single report. Of course, it makes life easy for you! But it also makes it easy for hackers to use malicious scripts in macros and exploit your computer.
So what's the solution?
Avoid enabling macros to unknown MS office documents, especially the ones you download from the web or unidentified emails, as it has the power to not only damage your computer but also leak out your personal information.
Audit Local/Domain Users And Remove Unwanted Users
Disabling, removing, or auditing stale or inactive user accounts from your organizations keeps your Active directory up-to-date and secure from insider attacks.
According to Microsoft, more than 10% of user accounts in your Active directory are either inactive or stale.
Thus, it would help if you made an effort to keep your directory safe from attackers, as they can damage your data and enterprise more. A hacker can access stale accounts and use them to get into your system and hack your data.
Audit RDP & SMB Access
RDP and SMB accesses are given to either traveling or remote workers. These two accesses permit employees to access networks from anywhere and communicate openly through an SMB protocol.
As a responsible employee, you must audit your RDP & SMB access by changing your credentials so that the company faces no security risks or threats. If not, cyber hackers will steal the employee account credentials to deploy malware in your ecosystem.
Use Strong Password
Your passwords are your first defence systems. Thus, you must put extra effort into creating strong passwords for your computers and other devices. A more robust password will take more effort to decode from hackers.
It will protect you from malicious software they want to deport to your computer systems. Thus, you must follow the rules for solid passwords, like using small and big alphabets and including a character and numerals. By adhering to some of these instructions, you can ensure the safety of your devices.
Use Secure VPN To Access Specific Ports
A secure VPN allows you to create a safe funnel in your network to the outside internet and channel information through it. With VPN, you don't need to export your ports to the outside internet.
It also helps you to set up secure public Wi-Fi connections, stream blocked websites, avoid ISP tracking and more. VPN provides 100% authenticity, security, and data privacy to save your devices from cyber-attacks.
How Can SEQRITE Be Your Shield Partner In This Journey?
There is no guarantee that any of the above methods will work for you; Ransomware makers are constantly improving their products to stay ahead of cybersecurity. That's why it's essential to implement cybersecurity best practices to prevent ransomware infections at all costs. SEQRITE can help you in this process to safeguard your systems.
SEQRITE Endpoint Security offers a layered approach to endpoint security with advanced threat prevention technology to prevent ransomware attacks.
Additionally, SEQRITE Advanced Persistent Threat Protection Service offers a layered approach to security. It combines the capabilities of Intrusion Prevention Service (IPS) and Sandboxing technology.
SEQRITE's experts will also help you adopt best practices to prevent ransomware attacks from protecting your organization.